Walczak

&

Heiss is an interactive civic-art design collaborative. We have just finished a major public artwork for a linear park in Denver, Co.

&

have a record of public artworks in Chico CA, Denver CO, Laramie WY, Wayne NE

&

others.
Marek Walczak has an international reputation in architecture, public artwork & new media with pieces in the permanent collections of the MoMA & the Walker Art Center in Minneapolis, MN amongst others. Prior to civic.space he worked for James Carpenter Design Inc.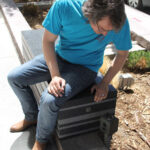 Wesley Heiss is an artist & Associate Professor of Industrial Design at Lehigh University with substantial experience in animation, computer-aided design/manufacturing & interactive sculpture.
Our backgrounds in architecture combined with 'in-house' design & build skills have enabled us to easily coordinate a wide range of resources. We finish projects on time & on budget while our small size gives us a great deal of flexibility in adapting to the needs at hand.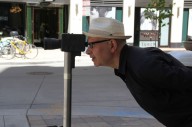 Our work uses a range of technologies, from high-tech to dead-tech, that are carefully applied based on the needs & challenges of each project. We have been collaborating since 2007 & have completed commissions with budgets ranging up to $1,000,000.
Download our resume_here.